March had Castro back in Los Angeles where he began a month and a half long stint at P.J.'s at 8151 Santa Monica Boulevard with his trio. P.J.'s[•] would be his musical home, as related by the Los Angeles Times: "Seven nights a week...playing nightly from 9 to 2."[•]

A good review for Teddy Edwards's Teddy's Ready by Leonard Feather in Down Beat:[•]
It seems to me that the phrase "happy music" has been misappropriated. In applying it so often to Dixieland, musicians and critics have given the impression that statements of a more modern character must be clouded with gloom. Yet if "happy music" is to be applied to performances that are informal, unpretentious, and show a spirited and imaginative co-operation among the participants, Edwards's group qualifies far better than, say, Kid Ory's. The writing is minimal: there are three Edwards originals, used simply as frameworks for improvisation, a Bird line, a Hamp Hawes blues, the Ellington theme, and one pop standard. The men have worked together off and on for a couple of years, sometimes under Castro's name (as on a recent Atlantic LP) and originally under Vinnegar's. Edwards has a pliant, full-toned manner that recalls some of the best moments of Jacquet, though clearly he has listened to the more recent influences. Castro, long underrated, has continued to improve steadily and swings consistently, tied neither to the hornlike, single-note line nor to the chordal approach. Higgins, who left the quartet just after this session was made last August, supplies a firm, never-too-obtrusive line, except for the superfluous Hideaway solo. Vinnegar, whose presence could have been strengthened a little, has some good solo moments on Train and Sermon. At the moment, Castro and Vinnegar are in Paris and Edwards has remained in L.A. I hope the quartet can be reorganized. Men like Edwards and Castro are needed as a reminder that hot, happy squalls, as well as cool breezes, blow around the Hollywood hills.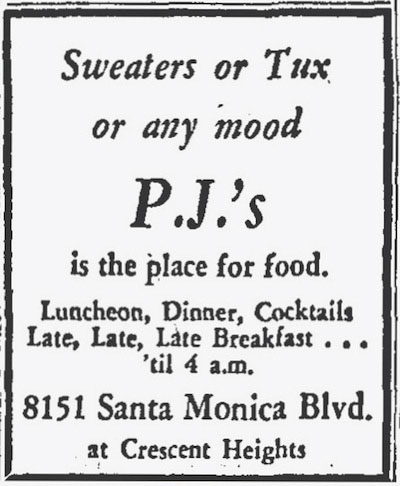 (Advertisement in Los Angeles Times, Los Angeles, California)[•]
(1st P.J.'s advertisement in Los Angeles Times, Los Angeles, California)[•]
He was very well received[•] at this new place,[•] though it seems, however, to have flopped again.[•]

On May 3, Castro left Los Angeles for his home town of Pittsburg[•] on May 17. Gossip writer Dorothy Kilgallen wrote in her syndicated column, Voice of Broadway: "As soon as Doris Duke returned from Europe, she resumed with Joe Castro. That romance has lasted longer than the cynics thought it would."[•]

On May 21, Russ Wilson from Oakland Tribune published this in his World of Jazz:

Tired of traveling and of the Los Angeles scene, jazz pianist Joe Castro has moved back to the Bay Area. He's dividing his time between the homes of his parents, in Pittsburg, and his sister in Berkeley. Castro's recent activities have included a stay in France with bassist Leroy Vinnegar, an album with June Christy, whose accompanist he is, and a two month gig with his trio in L.A. He hopes to do some composing, as well as playing, now that he's back home.[•]
On May 30, Castro moved back to New York.[•] His stay there was briefly interrupted by a trip to San Francisco[•] for a concert with June Christy and Vernon Alley.[•] Back in New York, Castro stayed for a few days, during which time he probably met his friend, drummer Paul Motian, who was at the Village Vanguard performing in Bill Evans's Trio featuring bassist Scott LaFaro. Motian[•] would play in in Castro's trio later on. Castro left for Newport's Rough Point, from where he would come and go to New York several times, most importantly on July 6th when he attended a recording session of The Count Meets the Duke - First Time![•] to be amongst his idols and on July 26th for a rehearsal mostly likely with Paul Motian and Joe Benjamin.[•] Castro received a New York Cabaret and Public Dance Card on July 31st which was due to expire in March 1963. He also appears in Down Beat's Combo Directory as:
Castro, Joe (Ind.). Formerly of the Teddy Edwards group and accompanist to June Christy, Castro currently leads a deep-grooved trio (piano-bass-drums) at P.J.'s in Hollywood, where he dispenses a healthy brand of modern piano jazz. Atlantic 1324, Groove, Funk, Soul.[•]
From the end of July until September,[•] Castro presented a trio at The Embers on 161 E. 54th Street with Joe Benjamin and Paul Motian. Wendell Marshall took over bass duties for Benjamin at the end of August.[•]

On September 9th, Castro was back in LA and joined June Christy on the "Sail with the Stars"[•] cruise aboard the SS Matsonia[•] until the end of the month. He wouldn't be back in NY to play even though the Oakland Tribune's Russ Wilson' s World of Jazz headline announced: "Castro Returns to N.Y. Scene:"
Pianist Joe Castro who played his first professional job in Pittsburg, Calif., as leader of a combo he'd formed from high school classmates and since has toured most of the world, has returned to New York City after an extended visit with parents and relatives in the East Bay. Heading a trio composed of bassist Joe Benjamin and drummer Paul Motian, Castro has been playing at The Embers, a plush New York jazz room. Castro had hoped to stay longer in the Bay Area, but work was unavailable even for so experienced a musician as he. That will give you an idea of what faces even younger jazz musicians here. Yet they—and we're speaking of the dedicated ones—keep striving like their fellows in other realms of art and some of them finally reach the heights. And whether it's fair or not, the fact remains that the hallmark of triumph is attained only when a jazzman "makes it" in New York....[•]
At the beginning of October, Castro was with June Christy for a gig at Parker's Lounge in Detroit.[•]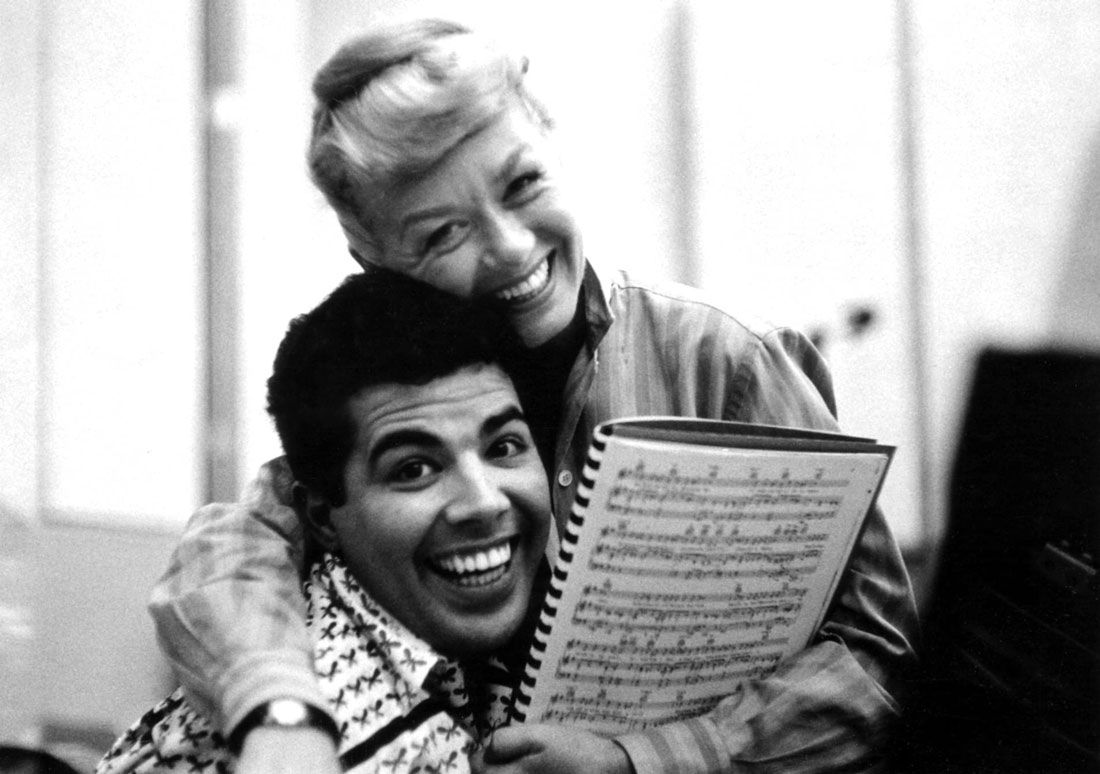 Joe Castro, June Christy,
circa
1960, by William Claxton
(James Castro Collection)
As usual, there were many reports that Castro and Duke's relationship might be on the rocks. A sign it might have been more serious this time can be seen in Castro's diary where Duke's birthday had been crossed out.

At that point, Castro was in Las Vegas[•] and had been hired as musical director and pianist for singer Tony Martin at the end of November.[•]

Tabloids in December 1961 reported that the relationship between Duke and Castro was over, including a syndicated article by Earl Wilson which read:
Doris Duke has gone to Paris since busting with pianist Joe Castro and Joe's friends claim she's pining for Joe. Joe claims he wants to get back records and things he left at her various abodes over 8 or 10 years.[•]
Castro was back in Las Vegas through New Year's. After a couple of gigs around Erie, Pennsylvania and Youngstown, Ohio, a tour began at Maramor Restaurant in Columbus, Ohio on January 5, 1962 and ended in Pittsburgh on Saturday, March 29, 1962.[•] Castro then went to Los Angeles, where he was in attendance at Radio Recorders studio on April 11, 1962, for a new recording by Tony Martin.[•]

On April 12, 1962, Duke's mother died. "New York (AP)—Mrs. Nanaline Holt Duke, window of the founder of American Tobacco Co., and mother of Doris Duke, died Thursday at the Hotel Stanhope where she lived. She was 90...."[•]

Castro spent a month in Las Vegas with Tony Martin at the Riviera Hotel.[•] Joan Winchell reported:
"An Evening with Tony," Tony Martin one of Hollywood's top "gold record" (million plus) stars, premieres his new nitery act, "An Evening with Tony," Monday night at Las Vegas' Riviera Hotel. The debonair Mr. Martin is joined by a vocal group selected following a nationwide audition. They work on stage with him in the production staged by Hal Belfar. Tony sings both his old favorites and Broadway's latest hits arranged by musical director Joe Castro, Jose Greco is co-starring.[•]
A couple of gigs in Tennessee and Michigan and then Castro returned to Las Vegas.[•] It seems as though Castro was living in Las Vegas during this period, from there he managed to meet and probably play club dates with his old friend Ernie Chavez at Crescendo in Los Angeles each weekend during the month of June.[•] His diary also mentioned meetings with Bill Trujillo and Buddy Greve, that could be sessions.[•]
A tour with Tony Martin began at the Three Rivers Inn in Syracuse, New York and then went on to Evansville, Indiana, Houston, Texas, and New York City where Castro met Duke Ellington and Billy Strayhorn on August 2, 1962. Castro was then at the Malibu Shores Club on Long Island, New York[•] for a week during which time he managed to see his friends, Zoot Sims (at the Half Note,[•] August 5, 1962) and René De Knight (August 6, 1962).

Throughout the year, Castro continued to travel across the country and even visited Hawaii,[•] for he spent two nights working with Martin at the Royal Hawaiian Hotel,[•] along with some vacation time with Cyd Charisse and Tony Martin and friends Debbie Reynolds and Harry Karl. His year continued to be very busy between working with Tony Martin and his new show at the Cocoanut Grove[•] which had been eagerly awaited by John Scott:
This undoubtedly will be demonstrated again Friday when "An Evening with Tony Martin" debuts at the Ambassador's Cocoanut Grove for a two-week engagement. Staged by Hal Belfer, this will be the most elaborate of Martin's "live" productions, with a supporting chorus of six singers and dancers plus a dozen string instrumentalists conducted by Joe Castro. Also on hand will be Freddy Martin's orchestra.[•]

He also received great appreciation for his work in Variety:

It should be noted that of all arrangers-conductors Tony [Martin] has employed over the years, Joe Castro, currently in the cockpit, appears most acute, the deftest. His backstopping and orchestrations are superb.[•]

…and The Hollywood Reporter:

It was a Tony Martin better than his best who opened Friday night at Cocoanut Grove. Martin's arranger-conductor Joe Castro impressed highly with his backing, also sound applause for a Honeysuckle Rose piano solo.[•]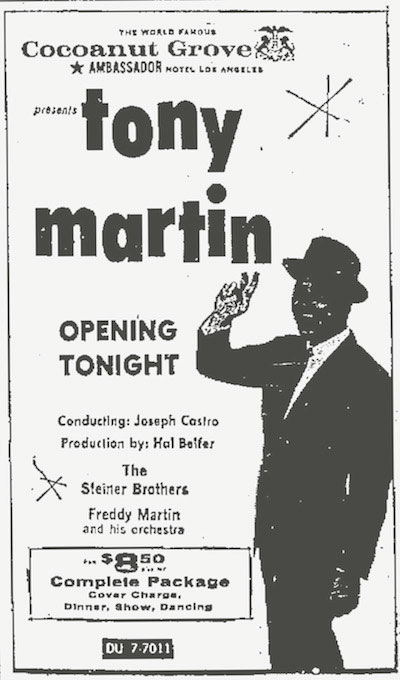 (Advertisement in The Independent, Pasadena, California)[•]

(Advertisement in
Honolulu Star-Bulletin
, Honolulu, Hawaii)
[•]
(James Castro Collection)
After taping a guest appearances on the Steve Allen Show on September 14, 1962,[•] Martin and Joe Castro went to Framingham, Massachusetts for a weeklong engagement.[•] Their travels were frequent: back to Los Angeles, then to Chicago[•] and on to New York[•] for four weeks during which Paul Motian occupied the drum chair in the band for four nights.[•] On November 15th[•] Castro was on The Tonight Show with Martin. The next week had him visiting his friend Cannonball Adderley at Birdland on November 22.[•] Castro was back to the Los Angeles on Sunday, November 25, 1962.[•]

In December, there was word that Castro and Duke were back together, which was echoed in the press into the New Year.

Earl Wilson: "Joe Castro, Tony Martin's conductor & arranger, made up with Doris Duke…."[•]

After a couple of gigs[•] Joe Castro and Doris Duke enjoy the holidays, including a Christmas party with Peggy Lee and New Year's Eve with "Prince" Michael Romanoff, on which Louella Parsons expounded:
Gloria and Mike Romanoff were honored with a dinner-dance on New Year's Eve in penthouse of Romanoff's. This was the final party before the closing of Romanoff's after 23 years of being a famous rendez-vous of motion picture and Hollywood celebrities. The party was hosted by Mr. and Mrs. Billy Wilder, Mr. and Mrs. Jerry Orbach and Arthur Cameron. The guest list was the Who's Who of Hollywood…. Doris Duke and Joe Castro were given a warm welcome….[•]
The duo was together when Martin toured Aruba and Puerto Rico in February,[•] which did not go unnoticed by Earl Wilson:
Aruba's quite a vacation spot these sh-sh-shivering days. Cyd Charisse and Doris Duke are both there: Cyd to be with her husband Tony Martin, fantastically wealthy Doris to be with Joe Castro, who works for Tony as his musical director.[•]
After Aruba, in Puerto Rico, were Paul Motian and his wife Sam. Joe had called Paul for the second time to fill the drum chair in Tony Martin's Orchestra. The full and humorous story is in the official Paul Motian biography, which will be published soon.
We can only say that[•] when Tony Martin was to "sparks tonight's Fontainebleau Hotel,"[•] in Miami, Castro was already in Honolulu.[•]

April and May saw Castro performing at the Little Dipper in Honolulu with vocalist Theo Lane.[•]

On May 5th, Walter Winchell wrote: "Doris Duke, the Richest-Girl-in-the-World, has gotten over the Apartche [stood for divorcing couples in invented rat-a-tat prose style of Walter Winchell] from her long-time beau, a jazz pianist…."[•]

The summer was busy, especially August with June Christy,[•] when they headlined the Copacabana…[•]
James Leveque: That June Christy thing is all firm for Copacabana and, plane space permitting, she'll show here Friday for a few days rest before her opening the following Monday. And for her and resident piano player Joe Castro, it'll be old times—he worked the keyboard for two years with her….[•]
and welcome friends like Chuck Wayne.[•]
In late September,[•] Castro embarked on a trip to Sydney, Australia with Christy.[•]

When back in LA,[•] Castro continued to work with other singers, including Mavis Rivers with whom he performed in Riverside,[•] California, and later at The Losers[•] in Hollywood with bassist Don Grief and drummer Mike Romero.

The Losers became a regular performance spot for Castro for the rest of the year,[•] with a good reception:
Variety: Etta Jones and Joe Castro complement each other, one a specialty jazz singer and the other fast paced, swing jazz piano.... Castro, backed with Don Greif, bass and Mike Romero, drums, swings with warm, friendly and rapid jazz piano. His is the kind of music that attracts audiences and makes them feel good, the rhythms bubbling with light and color that give life to the atmosphere. Musician swings with flat hand piano in a deep rolling sound, almost simultaneously gives it a lilting high key twinkle. Arrangements are solid, and run through general list of standards.[•]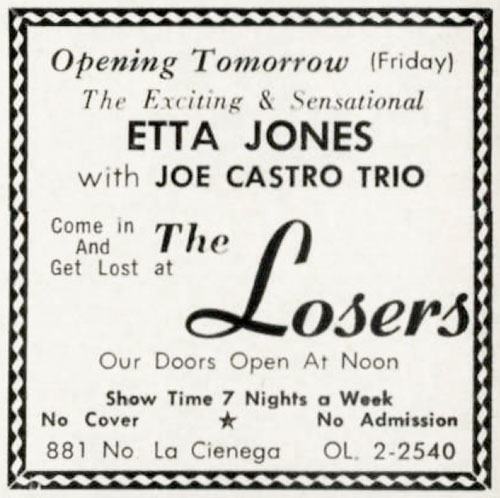 (Advertisement in Daily Variety, Los Angeles, California)[•]
Earl Wilson: [Carol] Choo Choo Collins, unknown a year ago, now singing at The Losers Club in Hollywood, has Doris Duke's beau, talented Joe Castro, and his trio, as her accompanists….[•]
Joe was still very busy with music and friends[•] at the end of the year and the relationship with Doris seemed to be fine.
Dorothy Kilgallen: Doris Duke and her longtime best beau, pianist Joe Castro, can't seem to forget that old feeling. They've resumed dating again after what everyone in the jazz set considered a permanent parting….[•]
But January 1964 found a number of articles in the press referring to a split between Duke and Castro. The Los Angeles Times mentioned that Duke had "evicted" Castro from Falcon Lair.[•]

In fact, Duke had evicted Castro from Falcon Lair most likely on December 17,[•] and planned to sell the home.[•]

Castro hired attorney R. Edward Brown,[•] who was introduced to him at the beginning of January 1964 by a musician friend,[•] John F. Pease (who was alleged to have been an occasional henchman for Doris Duke),[•] at his place in Honolulu.[•]

Brown filled a first suit on Castro's behalf against Duke on January 9.[•] The suit, which was for the partition of real property, claimed that Falcon Lair was joint property and Castro deserved a share in the proceeds.

A second lawsuit was filed on behalf of Castro on January 10, in the nature of a divorce action against Duke asking for alimony.[•]

In Los Angeles on January 24, Castro was awaiting a hearing on his demand for alimony pending a trial of divorce suit, which was subsequently postponed when the court ruled that the initial service of the divorce petition was defective.[•] Brown filed a third lawsuit, a tort action for assault and battery, on behalf of Castro.[•] Duke left for the Far East[•] the same day.

Duke was represented by attorney Morton B. "Tony" Jackson[•] in Los Angeles, who later hired Peter Brooke,[•] and by attorney J. Harold Hughes[•] in Honolulu. The three monitored and manipulated Castro,[•] but eventually protected him when he was later threatened by John Pease.[•]

Apparently, friends of the couple had been surprised at the divorce announcement,[•] many not knowing that the two had been wed,[•] although there had been rumors of a past or imminent secret marriage since the beginning of their relationship.[•] Some even felt that they would be back together as they had had dustups in the past.[•]

One Friday, February 14, a Superior Court judge decided that Doris Duke was properly served with the summons in the first lawsuit for partition of real property.[•] Duke asked an appellate court to overturn this decision on March 19.[•]

After gaining some time with various legal maneuverings, the attack against Castro was organized.[•]
Beside the three suits, Duke had another problem: the threat of Castro publishing a book about Duke's private life. Morton B. Jackson hired writer Peter Brooke[•] to pose as a potential buyer to short circuit the sale of an expose on the "Duke-Castro Story" that the "Castro-Pease-Brown triumvirate" were trying to sell. Brooke arrived in Honolulu on March 10.[•] A report of his work stated: "Though he did not succeed in this endeavor, he did an excellent job and won Mr. Castro's confidence. He succeeded in breaking up the Castro-Pease-Brown triumvirate…."[•] After two weeks, Hughes stopped the wire tapping,[•] and, satisfied with the results obtained, recommended mediation.[•] Hughes sent a "Confidential Communication Between Attorney and Client"[•] on March 28, where he objectively analyzes the risks and opportunities of the options of litigation and settlement, showing his qualms on this hand written note to Cooley.[•]

But on March 31, a "Complaint and Summons" was filed by Hughes, Alexander & Smart of Honolulu, Hawaii, Morton B. Jackson, Esq. of Los Angeles, and Daniel A. Weber, Esq. of Beverly Hills, on behalf of Doris Duke against Joseph Armand Castro in the Circuit Court of the State of Hawaii to enjoin prosecution of the instant action.[•]

On April 4, according to Hughes, he and Castro met to talk about the lawsuit Castro had filed against him.[•] On April 6, Castro sent a letter to his attorney, Edward Brown, asking him to have all three suits dismissed.[•] A note in Castro's diary on April 6 and 7 said that he was "off" and in two colored stars the initials DD were seen. Also on the same page, Harold Hughes's name is seen for the first time.[•] The romance is back on again.

Despite these events, Castro had kept meeting musician friends back in Hawaii.[•] He opened at Copacabana on March 6[•] and attended a jam session on Sunday afternoon, probably with artists performing at the club, including Rosetta Tharpe and Big Miller.[•]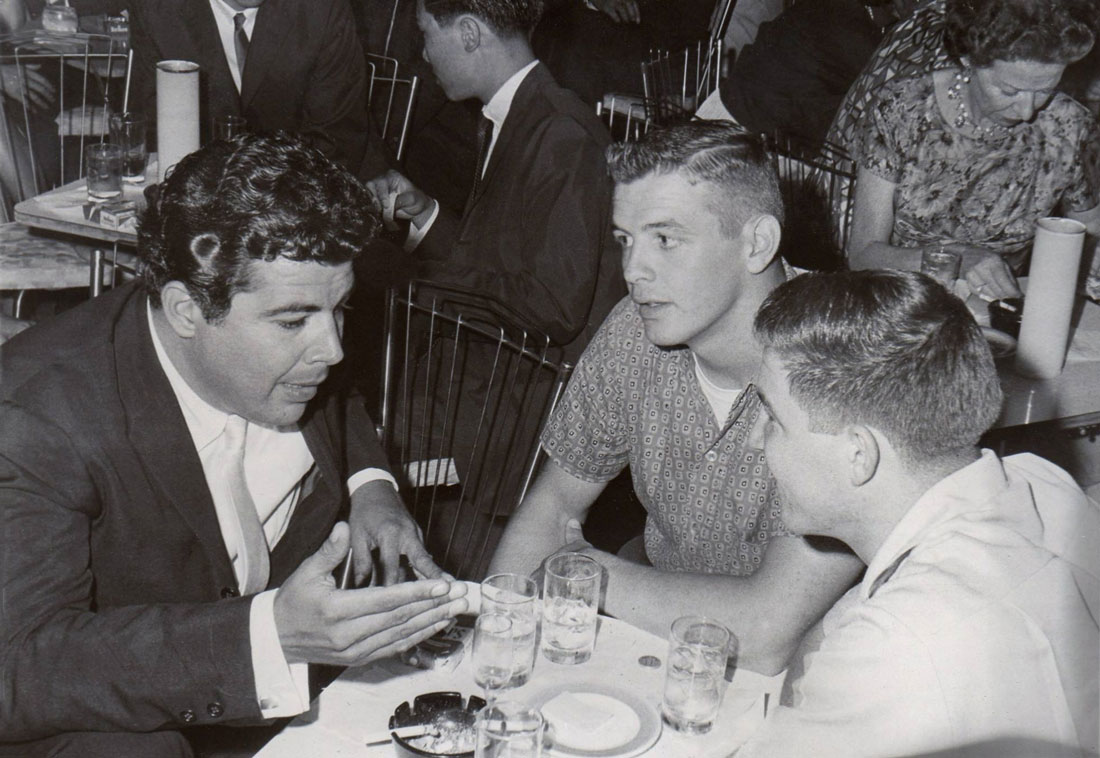 Joe Castro, Darrell Bradshaw,
Chet Burchfield
, Betty Reilly's Copacabana, March or April 1964
(Chet Burchfield Collection)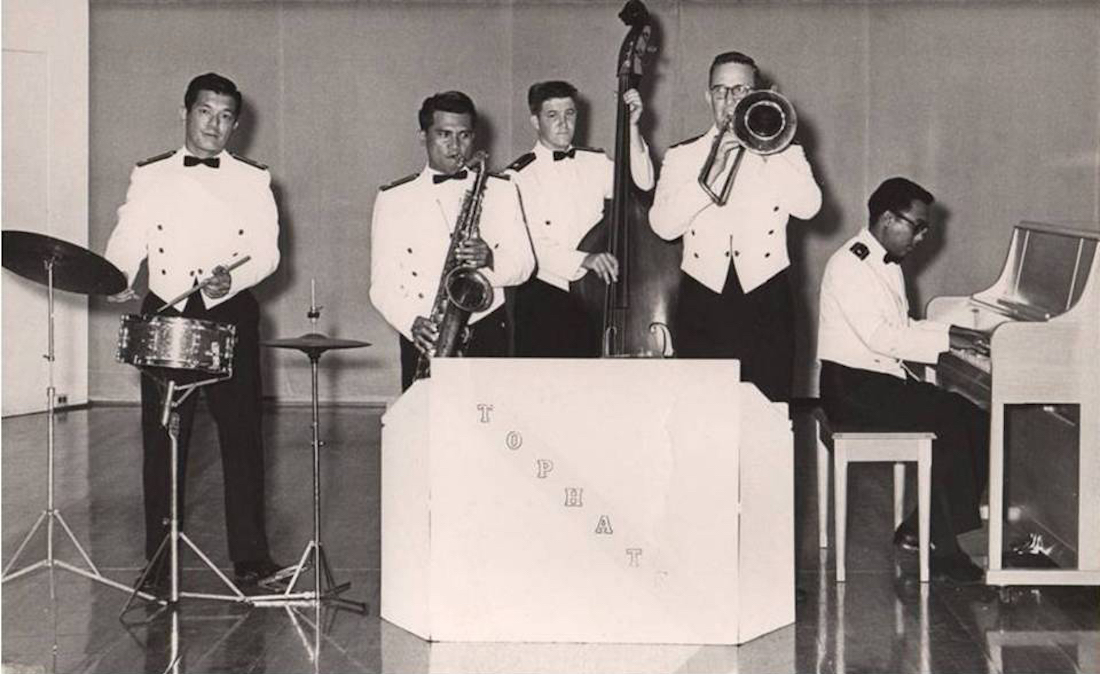 501st AFB Tophats: Howard Hayashi, Joe Canete,
Chet Burchfield
, Mike Morrissey, Ray Mabalot, Hickam AFB, 1964
(Chet Burchfield Collection)
At the end of March, columnist Louis Sobol wrote "From Hawaii, he [Castro] phoned John Popkin of the Hickory House, inquiring about open dates."[•] Castro remained on the island and later directed an orchestra featuring Hal Blaine at "A Million Dollar Party" presented by K-poi radio at the brand new[•] Honolulu International Center Arena, April 10…[•]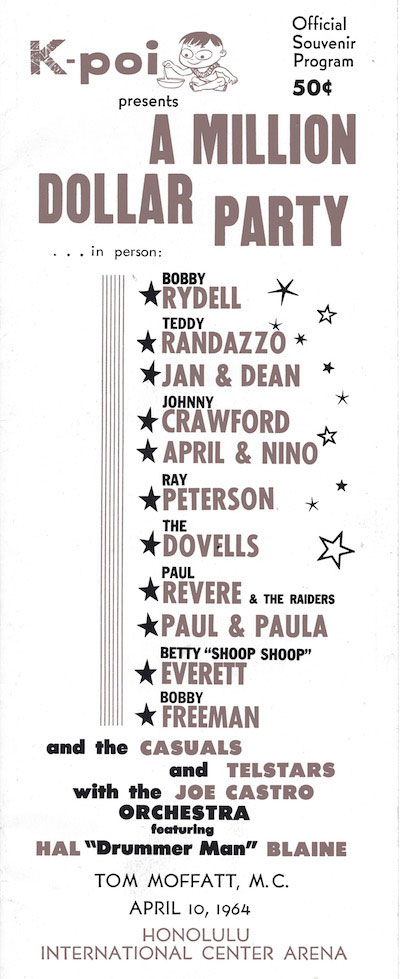 (James Castro Collection)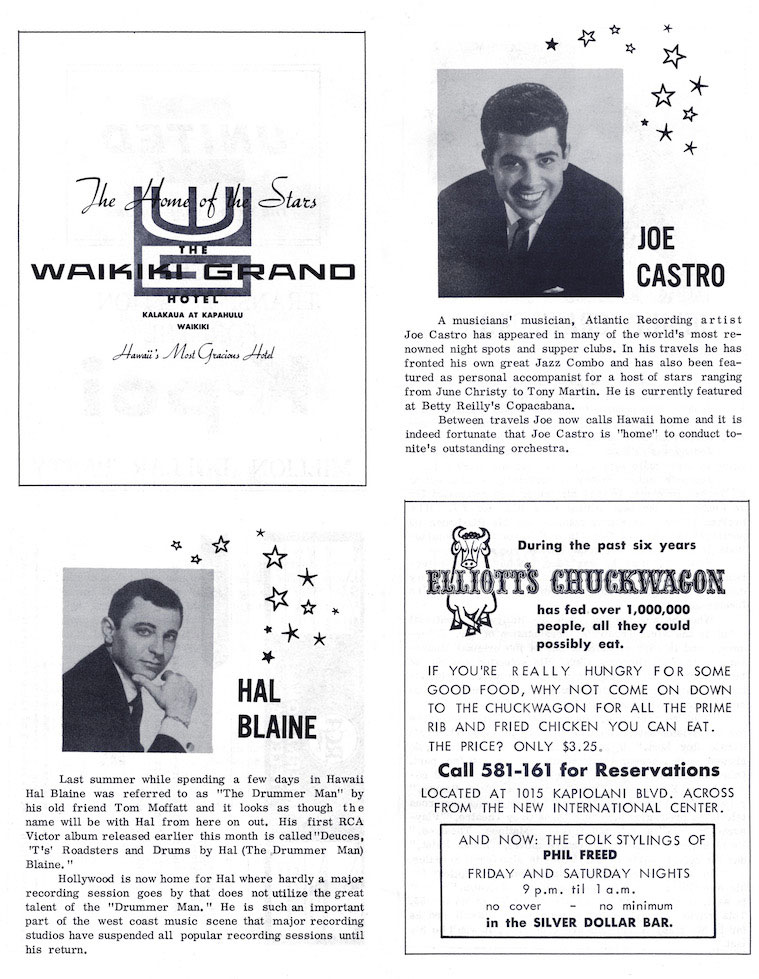 (James Castro Collection)
...and welcomed Anita O'Day on Monday, April 20.[•]

This was the first known visit that Anita O'Day made to Castro in Hawaii. The description of the Shangri La atmosphere that she made in her biography High Times, Hard Time, seems to correspond to this time in the couple's life:
…Shangri La on Black Point. That was where Doris and Joe lived. The main house was named after Doris' favorite motion picture. It was a copy of the Taj Mahal which sat in the midst of a twelve-acre complex. Behind it was a pool and what were called "pool cottages" but, man, there were four bedrooms, four bathrooms and little swings out front. She had twelve black Irish wolfhounds—one of which was named Anita after me. Those pool houses were where Joe Castro spent a lot of time, and he often asked us to stop by to drink Polish vodka and listen to him play the imported Beethoven piano. If you didn't want vodka, there was hundred-year-old brandy. We'd all jump in the pool, and often Doris would come down to join us. One day she gave a gathering[•] for Joe's friends. She got up in the morning and made Mexican food—everything from the bottom up. She might be the richest woman in the world, but that day she did it all herself….[•]
On Monday, April 27, 1964, Castro appeared without legal representation for a deposition in the Hawaii action. In a 70 minute deposition, he stated that he wished to dismiss the three California actions with prejudice.
…p. 6. Q.: "Do you wish to have the complaint for divorce against Miss Duke dismissed with prejudice?" Joe Castro: "Absolutely." …pp. 8, 9. Q.: "The suit filed on your behalf by Mr. Brown, of which you hold the complaint in your hands, relates to ownership of property at 1436 Bella Drive, Los Angeles, California, does it not?" Joe Castro: "That is right." …p. 9. Q.: "Now, the other suits that was filed on your behalf by Mr. Brown relates to a claim for money damages, does it not?" Joe Castro: "Yes." Q.: "Is it your desire that these other two suits be dismissed with prejudice?" "Yes." …p. 34. Q.: "Do you have any objection to the court entering a decree restraining you and enjoining you from selling or negotiating for the sale or transfer of any purported rights in and to material relating to her private life?" Joe Castro: "Do I have—What?" Q.: "Do you have any objection to the court entering a decree restraining you?" Joe Castro: "No." Q.: "…from selling any material, et cetera, relating to her private life?" Joe Castro: "No." …Q.: "Are you agreeable to entering into a stipulation to dismiss the actions that are now pending in California?" Joe Castro: "Am I—what?" Q.: "Are you agreeable?" Joe Castro: "Oh, yes." Q.: "…to enter into a stipulation for the dismissal of these three suits?" Joe Castro: "Yes." …p. 38. Joe Castro: "I just want to conclude this. This is as much as I want to say at this time. I can't think of anything, unless the reason—the reason I am dismissing this and not wanting any association with Mr. Brown and Mr. Pease is I have realized that not only that they are hurting Miss Duke, which was not my intention in the first place, and also they are hurting me. And I think they don't have any interest in anything in this matter but solely for their own gain and notoriety. And 'gain' meaning naturally money. And their behavior leads me to no other conclusion. Is that the right word? Conclusion. They have no interest in me."[•]
As Edward Brown refused to drop the California actions,[•] in accordance with the terms of a letter agreement signed by Castro,[•] there would follow a long series of procedures.

On May 9, a Motion for Default Judgment was filed on Duke's behalf in the Hawaii action: "To enter a decree permanently restraining and enjoining Defendant Joseph Armand Castro from: representing or holding himself out to any person or in any manner as having been the husband of Plaintiff, Doris Duke…."[•]

On Tuesday, May 19, when The New York Times headlined "Doris Duke Obtains Order in Hawaii Against Musician,"[•] the couple was far away in Tahiti[•] as they had left Hawaii on Monday, May 11, immediately after Castro appeared at the hearing in open court. Under the same impetus, at the Hughes office "Joe obliged by signing discontinuances with prejudice in the assault and battery suit and the one for partition of the Bella Drive property…."[•] All documents would be endorsed later in Los Angeles.[•] While Castro was travelling between Honolulu and New York, unknown to him, Hughes, Cooley and Brooke were planning a project to further Castro's career while moving him away from the nightclub circuit.[•]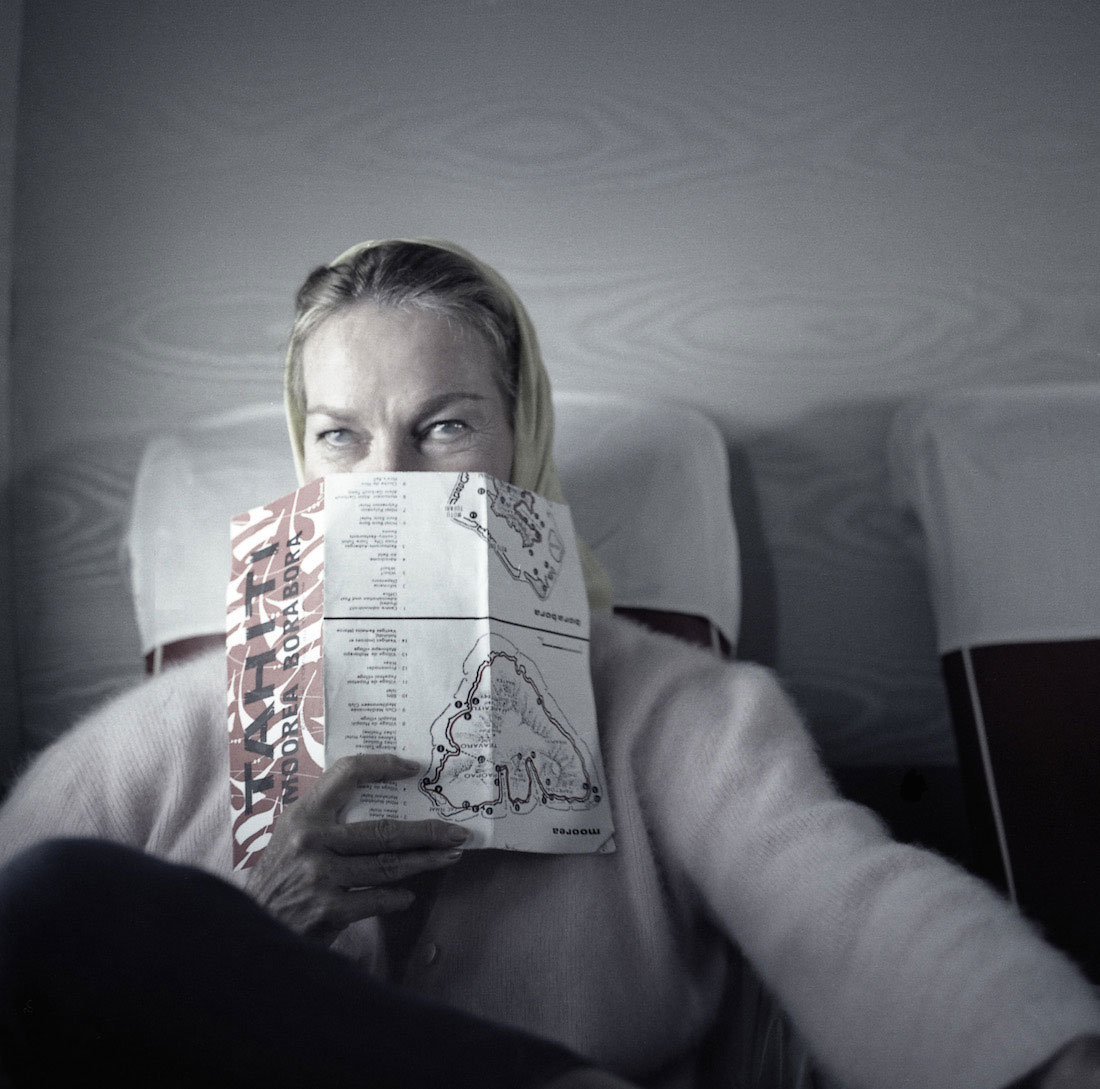 Doris Duke traveling in French Polynesia, May or June 1964, by Joe Castro
(James Castro Collection)